Predavanje o SharePoint Online na konferenciji Microsoft NetWork 2.0
Disclaimer: If you want to read this blog content in English, write to me and I'll post English version to my blog. You can also use some of online translation sites that support Serbian (Croatian, Bosnian) language. At this moment, Bing Translator is (unfortunately) not supporting neither of those languages, but you can use Google Translate instead.
Ove godine je po drugi put u organizaciji Microsoft-a BiH održana konferencija Microsoft NetWork 2.0 koja se, nakon Banja Luke (2011) ove godine održala u Mostaru. Konferencija je po organizaciji i kvalitetu predavanja ove godine napredovala, kako i priliči jednom ovakvom okupljanju. Broj i kvalitet predavača je bolji, a primjetno je i fokusiranje na svježe i aktuelne teme u predavanjima: izdvojimo samo Windows 8, System Centar 2012 i SQL Server 2012. Pored toga, prelijepo iskustvo je i dvodnevno druženje sa kolegama iz struke koji su prisustvovali ovoj konferenciji bilo kao učesnici ili kao predavači.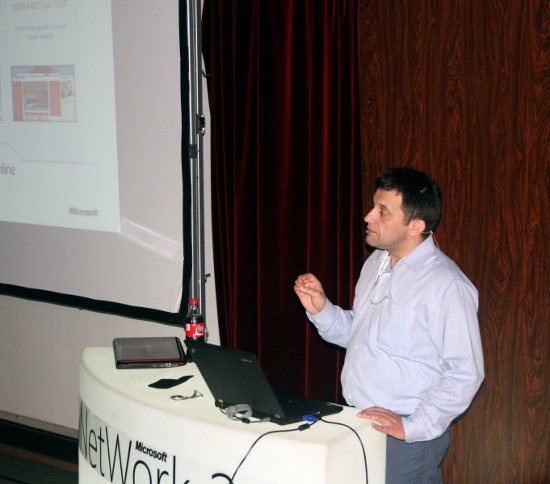 Imao sam čast da budem predavač na ovoj konferenciji, sa predavanjem "Office 365 - Prilagodite SharePoint Online vašim potrebama". Ovo predavanje bazirano je na prethodnim predavanjima "Pogled na SharaPoint Online" koja sam održao na sastancima user grupa u Sarajevu i Bijeljini, i obrađuje osnovne operacije koje kao korisnici, administratori i programeri možemo uz malo truda da obavimo na svom Office 365 SharePoint Online sajtu.
Prezentacija koju sam koristio za predavanje objavljena je u nastavku:
No Comments