Quick Tip: Discover subscribed content types in site
In my previous blog post, I explained how to publish content types in hub so that they can be used in sites. Today I will explain how you can easy see all content types which originate from CT Hub site, in one place.
In Site Settings, there is a link in Site Collection Administration group called Content Type Publishing which links to page /_layouts/15/contenttypesyndicationhubs.aspx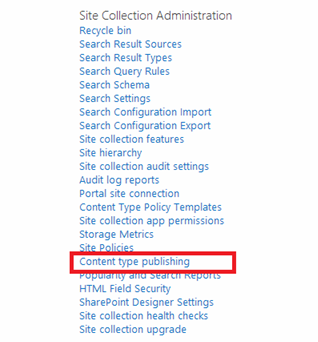 From that page you can refresh all published content types, see publishing error log and see all content types in current site which are originally published in Content Type Hub site which corresponds to Managed Metadata service app which is currently "responsible" for your site. For each published Content Type, you can see its Name and Group, as well as URL of Content Type Hub site where the Content Type is published. When you can click on content type name, you are redirected to Content Type details page in current site.