Two Office 365 migration and adoption resources from Microsoft
Microsoft has published lot of guides about Office365. Some of them are built with intention to help organizations migrate to Office 365 or to make it easy for users to adopt new services. Lot of resources are also available, which are built by community or Microsoft Partners. Today I will highlight two of them:
Switching to Office 365 for business
A set of step-by-step guides that explain Office 365 features to users which migrate from Google Apps for Business, Lotus Notes or older versions of Office to new versions of Office programs which are part of Office 365. Common new functions are explained with screenshots and useful tips. All guides can be downloaded and printed (in PDF file format), from link posted below.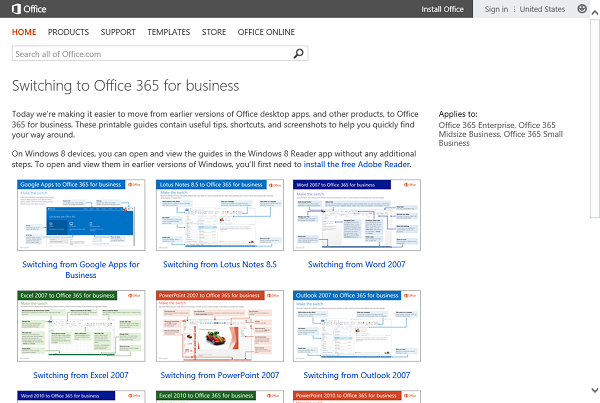 http://office.microsoft.com/en-us/switching-to-office-365-for-business-HA104311634.aspx
Office 365 Readiness and Adoption Kit
It contains lot of useful content that can help you during your entire Office365 project, from planning phase until its implementation and afterwards. Some of the resources included are: implementation planning workbook template, links to how-to videos, guides for end users, presentations, printable flyer templates and email templates that can be used to promote your new Office365 project to your internal audience. This kit can be downloaded as zip file from the link below.