Book Review: SharePoint 2013 WCM Advanced Cookbook
DISCLAIMER: I received a review copy of the book from Packt Publishing in e-book format.
This is one of the books which can be read quite quickly, yet still contains lot of information. It can serve as full learning resource for readers who want to learn about SharePoint WCM, or as a reference guide to experienced readers because of its modular structure. The book is organized in a "cookbook" format where relevant guidance is written as set of recipes which can be easily followed. It covers every aspect relevant to Web Content Management using SharePoint 2013:
Branding with Composed Looks

Using Design Manager

Creating Device Channels

Customizing Page Layouts and Master Pages

Creating Delegate Controls

Configuring Publishing and Cross-Site Publishing

Using managed Navigation

Customizing List Forms with InfoPath

Configuring Search

Using Variations and content translation

Configuring Anonymous Access.
[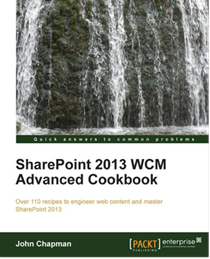 ](https://www.packtpub.com/sites/default/files/6587EN_ Sharepoint cookbook.jpg)Each recipe contains guidance how to perform specific action using SharePoint user interface, and afterwards same action is performed using PowerShell and Server Side Object Model, with basic description of the effect of performed steps to actual environment and links to Microsoft MSDN/TechNet content relevant to specific recipe. Although the book main topic is SharePoint 2013, lot of recipes can also be used against SharePoint Online in Office 365 (using user interface). The book is accompanied with sample code for all chapters that can be easily adapted for your target environment. Unfortunately, as the book does not contain any CSOM code samples, that part of the book cannot be used on SharePoint Online/Office 365. I would love to see it improved in that way in some of next editions.
I would recommend this book to anyone that builds, administers, configures or learns about SharePoint WCM farms. You can buy it on Amazon or directly from Packt (I don't have any referral bonus, feel free to pick a seller that better suits your needs).