How to: Edit Document Metadata from Office client application using Document Information Panel
When a document content type is associated with document library in SharePoint and Office 365, creation or editing of a document makes it possible to edit document content in Office client application for known document types. However, it is also possible to directly edit document metadata from Office client application. For Office 2013 and earlier it is possible to use Document Information Panel (DIP) to edit document metadata.To open a DIP:
Use File – Info – Properties – Show Document Panel
DIP will be visible in main document window and user will be able to edit document metadata – including all custom columns for a content type (even including Taxonomy Columns)
DIP does not work in Online versions of Office applications – it can be used only in Office Desktop apps. 
In Office 2016 applications situation is a little bit different: Document Information Panel is deprecated and for that reason we can use Show All Properties command in the Office Backstage for an application to edit document metadata.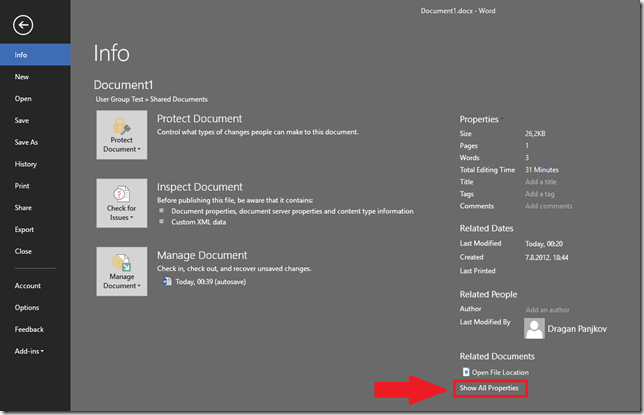 That will expand Properties section with all properties for current document. All properties will be visible, including all custom columns for a content type.