Speaking at European Sharepoint Conference 2016
European SharePoint Conference is largest SharePoint event in Europe. It gathers more than 1500 attendees over 100+ technical sessions related to not only SharePoint, but also all other Office 365 technologies.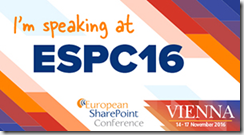 This year I will also take part in this event as a speaker, with two sessions accepted in the conference program, one on Wednesday, 16.11 and another on Thursday, 17.11. You can also find me during T3 and T11 sessions in developer track on Tuesday, where I will be present as Track Chair and introduce the speakers. I might also spend some time on K2 booth at the conference together with my colleagues, as K2 is Platinum Sponsor of the conference, so in case you see me, feel free to stop me and say hi. You can also reach me on twitter (@panjkov)  and we can arrange at least a short coffee break.

My sessions on the conference are:
Office Command Add-ins – New generation of Add-ins
Session: W26 – 16.11 15:15 - 16:15. Office add-ins/Office apps have been developed since Office 2013. They are based on JavaScript APIs which developers can leverage to access the content of documents displayed within Office apps. However, full integration with Office ribbon (like with Office VSTO add-ins) was not possible until now. Office Command add-ins enable this kind of integration, and in this session, Dragan will show approaches for developing Office Command add-ins and some usage examples.
Getting Started with Office 365 Groups and Tasks API
Session: Th19 – 17.11 14:00 – 15:00. Office 365 Groups have the main purpose to increase productivity of teams by leveraging different services under a single hub. Besides that, groups also can be used in Power BI, OneNote and Dynamics CRM, as well as underlying technology to Planner in Office 365. Groups can be accessed through Microsoft Graph API that provide relevant information through set of resources contained in the group content. In this session you will get introduced to Groups and Tasks APIs in Office 365, learn what are the basic resources available through REST calls and how to use them in your applications.
I intend to post more details about the content of both sessions in next couple of days on this blog. I hope to see you there.